The RWBY Volume 5 Opening was posted on the Rooster Teeth website and YouTube on October 17th, 2017.
The song played throughout is "The Triumph" by Casey Lee Williams.[1]
A crow is seen flying towards the City of Mistral, its feather moving toward the screen as it transitions to Ruby Rose standing in a forest clearing, wearing her hood as she looks up into the night sky. Her image bursts into red petals, transitioning to Weiss Schnee as she leans her head on her hand before looking up determined. Her image then bursts into white petals, transitioning to Blake Belladonna as she looks up into the night sky, before putting her head down with her eyes closed and her teeth clenched. Her image bursts into black petals, transitioning to Yang Xiao Long leaning against Bumblebee, before looking up as her image bursts into yellow petals.
The following text is shown on a purple and yellow dusk-like background:
ROOSTER TEETH FIRST PRESENTS
A ROOSTER TEETH ANIMATION PRODUCTION
References
Edit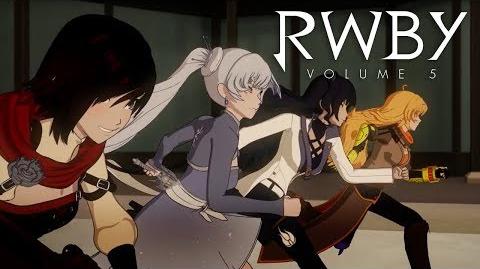 Community content is available under
CC-BY-SA
unless otherwise noted.