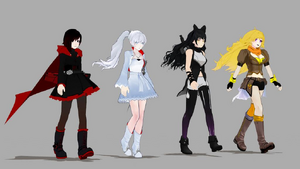 Teams are groups comprised of four individuals that are formed to fight alongside one another. In Beacon Academy and other schools, students are put into teams to learn together and practice with other teams while training to become Huntsmen.
Background
Teams are formed at Huntsman Academies with the intention of forming lasting bonds and fostering empathy between team members. After graduating from an academy, a team may stay together or disband for its members to pursue solo careers. However, Atlas Academy was known for pressuring it's graduates to join the Atlas Military prior to the Kingdom's destruction with the Happy Huntresses being the only known team to avoid this.[1]
History
Following the Great War, the King of Vale abolished the monarchy and created the Huntsmen Academies to train Huntsmen. He put students into 4 person teams to encourage teamwork.
Professor Ozpin claims that the King of Vale was inspired by the Mistralian Fairy Tale of The Hunter's Children when developing the Huntsmen Academies, taking the four-man squad and ideals of the tale as lessons to heart and using them as foundational cores to the Huntsman ideology.
While teams were usually comprised of four members and had their name be a color, the Ace Operatives were the only known team to ignore these rules and had five members instead while lacking a name referencing a color. This was due to general James Ironwood not caring about Ozpin's rules and instead preferring an elite and efficient team with it's members originally only seeing their teammates as coworkers instead of friends as a result.
Formation
Names
The first letter of each team member's name is used to form an acronym that stands for the name of the team. In some cases, the first letter of a member's surname may be used. The team leader's initial is the first letter of the team name.[2]
Every team name follows the color naming rule of Remnant with the exception of the Ace Operatives. This means a team name has to be a color, mean a color, sound like a color or make people think of a certain color.[3][4]
Formation at Beacon
Main article: Beacon Academy Initiation
Every academy has its own way of assigning teams.[5] At Beacon Academy, teams were formed during the Beacon Academy Initiation.
The day after arriving at Beacon Academy, first-year students (such as Ruby Rose, Jaune Arc, etc.) were gathered at the edge of Beacon Cliff overlooking the Emerald Forest where Ozpin and Glynda Goodwitch stood before them and explained the procedure of the Beacon Academy Initiation that they would soon undergo. After being launched from the Cliff and landing in the forest below, the first pair of students to make eye contact with each other were partners for the rest of their time at Beacon, which consisted of four years.
To complete the team of four, as seen in "Players and Pieces", the two pairs of students who pickedd matching relics found at the abandoned temple were combined to form a team, and Ozpin chose the leader based on who displayed the best leadership skills during the initiation.
As of "The Badge and The Burden", the team members of each respective team shared a dorm. Even Team JNPR, a co-ed team, shared a single dorm.
In "End of the Beginning", it is unknown if any of the teams at Beacon remained active after the academy's destruction and its headmaster's death. In particular, Team RWBY goes inactive due to the separation of its members but later reforms in "Haven's Fate". It is possible that some teams transferred to another academy, an example being Team CFVY transferring to Shade Academy.[6]
Formation at Shade
Main article: Shade Academy Initiation
As the initiation at Shade Academy started, students were told to board armed Air Buses, which took them over the Vacuan desert. The cadets then received individual coordinates which they had to reach, and they were informed their Scroll connections will be blocked. They were also told they had exactly three objectives:
Survive the desert.
Find your way to an airbus which would take you back to Shade Academy.
Locate and retrieve a golden trinket in the desert.
After reaching several thousand feet of height, the floor of the aircraft suddenly flinged open, dropping all students into the desert below. The students were forced to find their own landing strategies to safely reach the soft sand.
It is unknown how teams are selected, although Scarlet David believed that it is entirely random as based on Team SSEA's formation.
Teams
Beacon Academy - (Formerly)
Beacon Academy was situated in the Kingdom of Vale and it's capital city. After the Fall of Beacon and Ozpin's death, the academy became overrun with Grimm and many of the teams at the academy either transferred to Shade Academy, were killed in the attack, or just left completely. Glynda Goodwitch has become the headmistress of Beacon following this and is attempting to restore it to it's former glory.
Shade Academy
Shade Academy is located in the Kingdom of Vacuo and it's Headmaster is Theodore. Many of the teams at the Academy recently transferred from the fallen academies of Beacon and Haven, causing many of the teams at the academy like Team NDGO to constantly harass the newer students.
Gillian's Team was an older team at Shade, but left the academy after Jax Asturias was expelled for his bad behavior and the other members defected with him to form The Crown. Team BRNZ was a team from Shade that was mostly wiped out during the fall of beacon with only Nolan Porfirio surviving.
After Xanthe Rumpole was brainwashed by the Crown and she recommended Theodore changed the original teams, Theodore reorganized the pre-existing teams when he learned the Crown used Rumpole to keep the academy off their trail.
Shade Academy - Temporary
After Xanthe Rumpole was brainwashed by The Crown to keep the academy off their trail, she temporarily managed to do so by recommending to Theodore that the teams at the academy should be re-organized. After a while, the new teams noticed how much they didn't get along with each other and began to suspect that something was wrong. After being confronted by professor Rumpole, Yatsuhashi Daichi managed to free her with his Memory Wiping Semblance and she revealed that the new teams were formed so The Crown could attack Shade Academy without interference. Once Theodore learned of this, he disbanded all of the newer teams and re-organized the older teams to prepare for the upcoming attack.
Atlas Academy - (Formerly)
Atlas Academy was a Huntsmen Academy that merged with the government and the Atlas Military. It's headmaster was James Ironwood who was also the general of the military and could conscript many of the students into the military like Team FNKI. After the Kingdom of Atlas was destroyed in "The Final Word", the Academy was destroyed with it and many of the organizations and teams associated with them were disbanded. Some of these teams were the Ace Operatives and Penny's Team.
Haven Academy
Following the Fall of Haven, all known teams from Haven Academy transferred elsewhere. Teams SSSN and ABRN both transferred to Shade Academy in RWBY: After the Fall and RWBY: Before the Dawn, respectively. Teams ABRN and SSSN are the only remaining active teams from Haven, with the other teams either quitting or being killed by Tyrian and Hazel. [7]
Additionally, despite not being actual students, Cinder's Faction used a team consisting of Cinder, Emerald, Mercury, and Neopolitan to infiltrate the Vytal Festival Tournament under the guise of students from Haven thanks to Leonardo Lionheart forging documents to help their infiltration.
Other
Temporary
Trivia
Story
Since first-year students are seen speculating how teams are going to be formed and even asking others to join theirs the morning before being assigned teammates, the process and details of creating teams at Beacon are kept secret until the initiation. Glynda herself calls what the students heard as "rumors", although Pyrrha knew the teams consisted of four students each beforehand and Nora was previously aware that the test would take place in the forest.
Despite the fact that all teams have their first letters represent the name of their leaders, Jaune, Weiss, and Ruby are all shown to be surprised at who would command the group. This may merely be the students' lack of knowledge as to how teams are assigned.
The Ace Operatives lacking a team color and ignoring the standard four-man squad convention was an intentional choice, made to show that Ironwood did not care about Ozpin's rules and his view of prioritizing efficiency.[8]
The Beacon Initiation had twenty black and white chess pieces visible in the temple, two for each piece in chess, both white and black. This would mean that there is a possible total of ten teams of four able to pass the initiation.
Team Names
Each team has its own motif. For examples, RWBY's is fairy tales, JNPR's is cross-dressing warriors and legends, CRDL's is birds, and CFVY's is various sweets.
Under most circumstances, all letters in a team name consist of their members' first initials. However, there are five cases in which a team member's last name is used for their respective team's initials: Lie Ren of Team JNPR, Sky Lark of Team CRDL, May Zedong of Team BRNZ, and Arrastra Skye and Pyke Rite of Team SAFR.
So far, there have been three cases where the team's name matches that of their respective leader: Ruby Rose of Team RWBY, Sun Wukong of Team SSSN, and Brawnz Ni of Team BRNZ
In the first episode of Volume 4, Ren, Nora and Jaune debate on whether to call their new team RNJR (Ranger) or JNRR (Junior).

Nora explains that there are more members from Team JNPR, so they should be called Team JNRR. Ren disagrees because the pronunciation of the name does not link to a color. He also points out that since they are helping Ruby on her mission, their team name should start with Ruby's initial. Thus, creating the team name RNJR.
Miscellaneous
All fully revealed teams have a member whose name alludes to a shade of red: Ruby Rose (RWBY), Pyrrha Nikos (JNPR), Scarlet David (SSSN), Velvet Scarlatina (CFVY), Cardin Winchester (CRDL), Arslan Altan (ABRN), Roy Stallion (BRNZ), Octavia Ember (NDGO), Cinder Fall (Cinder's Team), Summer Rose (STRQ), Arthur Watts (Salem's lieutenants), and Robyn Hill (Happy Huntresses).

Penny's Team was left ambiguous as having only shown two members.
This pattern was later broken with Teams FNKI, Team SAFR, Team SMMK, and the Ace Operatives not having any characters that allude to a shade of red.
The temporary teams of Shade Academy also mostly follow this pattern: Octavia Ember (NOVA), Umber Gorgoneion (FNDU), Scarlet David (ROSC), and possibly Elektra Fury (SSEA), with the exception of Team BYRN.
References