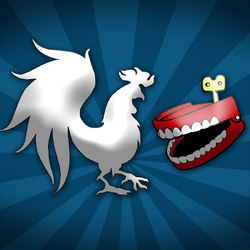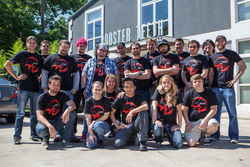 Founded on April 1st, 2003 by Burnie Burns, Matt Hullum, Geoff Ramsey and Gus Sorola, Rooster Teeth Productions is a production company based in Austin, Texas and a subsidiary of Otter Media, itself a subsidiary of Warner Bros. Discovery. Primarily known for their flagship series, Red vs. Blue,[1] Rooster Teeth and its daughter website, Achievement Hunter, produce a variety of machinima, live-action videos, Let's Plays and in-game shorts.
On November 6th, 2012, Rooster Teeth released the first trailer for RWBY after the credits for Season 10 of Red vs. Blue. RWBY is Rooster Teeth's first series that is purely animated, with no video game or live action component. The first episode, "Ruby Rose", premiered at RTX on July 5th, 2013,[2] while the public release was on July 18th, two weeks after the premiere at RTX.[3]
On April 1st, 2013, Rooster Teeth celebrated its 10th birthday, creating a "10 Year Retrospective" video which spawned numerous spinoffs by fans.
In 2014, Rooster Teeth was acquired by Otter Media subsidiary Fullscreen alongside ScrewAttack with ScrewAttack operating as a division of Rooster Teeth as a result. Rooster Teeth agreed to be bought by the company to give itself the tools and resources needed to compete against other producers.
On February 1st, 2015, one of the creators of RWBY, Monty Oum, passed away due to a severe allergic reaction. While the fate of the series was originally unknown, Monty's friends and series co-creators Miles Luna and Kerry Shawcross eventually revealed their intent to continue the series in his honor.
On January 26th, 2018, Fullscreen president and Former COO Ezra Cooperstein was appointed as president of Rooster Teeth until he stepped down on April 26th, 2019.
On August 7th, 2018, AT&T acquired the remaining stakes of Rooster Teeth's parent company Otter Media with both companies operating as a division of WarnerMedia as a result.
On April 8th, 2022, AT&T spun off WarnerMedia to merge with Discovery, Inc for 43 Billion dollars to create Warner Bros. Discovery with Rooster Teeth and it's parent company Otter Media working under the new company.
Games released by Rooster Teeth Games (Rooster Teeth's video game division)
RWBY games
Other projects

Bendy and the Ink Machine (2017-2018 horror video game) (ports)
Projects created with other developers
Twitter
Links
References