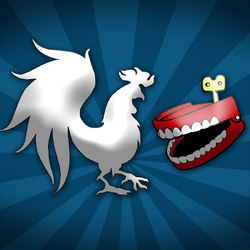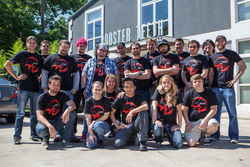 Founded on April 1st, 2003 by Burnie Burns, Matt Hullum, Geoff Ramsey and Gus Sorola, Rooster Teeth Productions is a production company based in Austin, Texas. Primarily known for their flagship series, Red vs. Blue,[1] Rooster Teeth and its daughter website, Achievement Hunter, produce a variety of machinima, live-action videos, Let's Plays and in-game shorts.
On November 6th, 2012, Rooster Teeth released the first trailer for RWBY after the credits for Season 10 of Red vs. Blue. RWBY is Rooster Teeth's first series that is purely animated, with no video game or live action component. The first episode, "Ruby Rose", premiered at RTX on July 5th, 2013,[2] while the public release was on July 18th, two weeks after the premiere at RTX.[3]
On April 1st, 2013, Rooster Teeth celebrated its 10th birthday, creating a "10 Year Retrospective" video which spawned numerous spinoffs by fans.
Games released by Rooster Teeth Games (Rooster Teeth's video game division)
RWBY games

RWBY: Amity Arena
RWBY: Grimm Eclipse
RWBY (mobile game)
RWBY: Crystal Match
RWBY Deckbuilding Game

Other projects

Bendy and the Ink Machine (2017-2018 horror video game) (ports)
Twitter
Links
References