The Relic of Destruction is one of the four Relics created by the God of Light.[1] It is referred to by Salem as the Sword.
Description
The Relic takes the shape of an ornate sword.
Powers
Its powers are currently unknown.
When brought together with the other Relics, it has the power to summon The Gods.
History
Creation
Before departing from Remnant, the God of Light created the Relics as a means to summon The Gods back to the world. They stand as a physical representation of their four gifts to Humanity.
Hidden in Shade
Prior to the start of the series, the Relic was hidden under Shade Academy by Ozma, where it is kept.
Following their setback at Haven Academy, Salem initially intended on sending her forces to Vacuo in order to retrieve the Relic there. However, after learning that Ozpin and his group were taking the Lamp to Atlas, she instead changed her target.
Trivia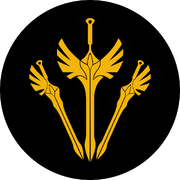 The symbol of each Kingdom appears to correspond to the Relic hidden at its Huntsman Academy. The Relic of Destruction takes the form of a sword and is situated in Vacuo, whose insignia are three swords.
Although there are rules to the Relics, they are not hardcoded. So long as you follow the intent, even if its not the letter, they will still give you what you want.[2]
References
↑ RWBY Volume 8 Directors' and Writers' Commentary Chapter 12