RWBY and its characters have made a range of crossovers and appearances into a large range of other shows, games and other media. References and Easter eggs have appeared in properties owned by Rooster Teeth, as well as in those owned by other companies.
Animation
Edit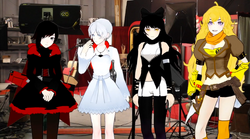 On December 1st, 2013, RWBY characters appeared in "The Animated Recap", an episode of RT Recap, a now-discontinued show that reviews the preceding week's Rooster Teeth and Achievement Hunter videos.
Ruby Rose, Weiss Schnee, Blake Belladonna and Yang Xiao Long appeared alongside other animated characters from Rooster Teeth, such as Sarge from Red vs. Blue and the Let's Play Minecraft personas of Geoff Ramsey and Gavin Free. They also interacted with fictionalized versions of Burnie Burns, Joel Heyman and Gus Sorola from Rooster Teeth Animated Adventures.
RTX Australia 2016 Panel
Edit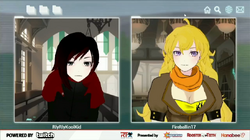 At the inaugural RTX Australia in Sydney on January 24th, 2016, the second RWBY panel hosted a Q&A session with Lindsay Jones and Barbara Dunkelman in-character as Ruby and Yang. The pair answered questions and interacted live with fans as their characters under the premise of a video chat conversation from Beacon Academy.
The faces of Lindsay and Barbara were captured using a GoPro, with a Kinect to capture their motion performance. The characters were then rendered in real-time in Unreal Engine 4. The technical side was set up with the help of Opaque Media using Faceware Tech software.[1][2]
Rooster Teeth Animated AdventuresEdit
RWBY characters have made cameos in some episodes of Rooster Teeth Animated Adventures. Yang Xiao Long made a cameo in "Racial Super Texas" sitting at a bar. A doll of Yang Xiao Long also appeared in "Spooky Scary Ghost Stories", in which her arm was broken by a ghost.
Red vs Blue
Edit
Along Came a Spider - Season 13 Episode 6
RWBY and JNPR are two of the names scrolling behind Hargrove on The Staff Of Charon.
Cinder Fall and Yang appear in the trailer for Red vs Blue: Zero shown at the Rooster Teeth Comic-Con@Home 2020 Panel as commenters for the characters' live stream, under the handles Cinder_2u and Yang4Real, respectively.
Prologue - Season 15 episode 1 mentions "Monster fighting sexy teenagers"
X-Ray and Vav
Edit
X-Ray & Vav Rise - Season 1 Episode 1
Camp Camp
Edit
Announcement TrailerEdit
The Quarter-Moon Convergence - Season 4, Episode 5Edit
When the main characters enter the virtual reality world, the Ether, their avatars briefly wear the outfits of several RWBY characters.
Julian Chase is dressed as Jaune Arc from Volume 4-7.
Yasamin Madrani is dressed as Blake Belladonna from Volume 4-7.
Cameron MacCloud is dressed as Ruby Rose from Volumes 1-3.
Kazu Iida is dressed as Sun Wukong.
Valentina Romanyszyn is dressed as Lie Ren from Volume 4-7.
ScrewAttack's Death BattleEdit
Yang vs. Tifa
Edit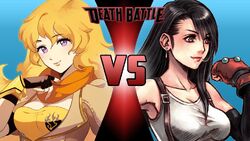 On October 21st, 2015, three days before the premiere of RWBY Volume 3, Yang appeared in an episode of ScrewAttack's Death Battle web series, which pits fictional characters from different franchises against each other in a hypothetical battle to the death. Yang fought and won against Tifa Lockhart from the video game Final Fantasy VII. The episode featured new dialogue from Yang's voice actor Barbara Dunkelman as well as original animation by ScrewAttack's animator Torrian Crawford.
ScrewAttack had included a tribute to series creator Monty Oum in a previous episode of Death Battle, with whom the inclusion of a RWBY character on the show was also discussed before his passing. On November 4th, 2015, ScrewAttack announced that they were joining Rooster Teeth, which is also a partner of the Fullscreen network.
Ruby vs. Ragna
Edit
In an episode of Death Battle Exhibition, a spin off series of Death Battle, Ruby faced Ragna from the BlazBlue video game series.
Ruby won the match.
Weiss vs. Mitsuru
Edit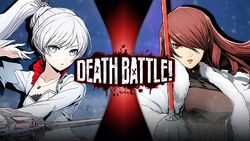 Another Death Battle, Weiss vs Mitsuru would air in 2019 after ScrewAttack has been rebranded to Death Battle.
Weiss would be defeated by Mitsuru.
Blake vs. Inuyasha
Edit
In another episode of Death Battle Exhibition, Blake fought Inuyasha from the anime, InuYasha.
Blake was defeated by Inuyasha.
Yang vs. Bakugo
Edit
In another episode of Death Battle Exhibition, Yang fought Katsuki Bakugo from the anime, My Hero Academia.
Yang was defeated by Bakugo.
Ryu vs. Jin
Edit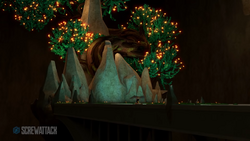 The Haven Academy Vault from RWBY is featured in the Death Battle episode Ryu VS Jin (Street Fighter VS Tekken) as the locale for the second half of the fight. In addition, the choreography for this portion is similar to that from the RWBY Volume 5 episode "Downfall".
Team RWBY vs. Teenage Mutant Ninja Turtles
Edit
Team RWBY were contestants against the Teenager Mutant Ninja Turtles for a Community Death Battle poll for the February 12th, 2020 Death Battle Cast show. The poll opened on February 7th, 2020 and ran until the show aired on the 12th.
RWBY won with 69.4 percent of the vote over TMNT's 30.6 percent.[3]
Cinder Fall vs. Azula
Edit
In another poll for Death Battle Cast, Cinder Fall opposed Azula from the series "Avatar: The Last Airbnder". Voting began on August 28th, 2020 and will run until when the show airs on September 2nd, 2020.[4]
Live Action
Edit
Million Dollars, But...
Edit
Ten Little Roosters
Edit
Episode 3
Edit
Lazer Team
Edit
Hagen is called out to Ruby Lake for an extraction.
The RWBY hashtag is also trending on twitter as the season premieres while the Lazer Team story gets popular in the news.
When Mindy is video chatting, she has a RWBY branded laptop.
There's a Ruby Rose cosplayer in a line of people claiming to be a "Champion of Earth". (Bonus: Miles Luna is wearing a red Halo Spartan armor and Kerry is dressed as a Hobbit)
During Zach's fight at the party, there's one shot where Lindsay, Kara, Arryn and Barbara are standing next to each other.
RT Shorts
Edit
Barbara Dunkelman created a live-action parody version of the Volume 7 Opening. It aired on YouTube on November 8th
The song mentions RWBY.
Free Play
Edit
RWBY Extravaganza! – Free Play -42
Edit
Grimm Eclipse Shootout! – Free Play -59
Edit
Always Open
Edit
17 - RWBY is Always Open
Edit
44 - RWBY Ladies Reunite
Edit
40 - Barbara Finds Out She's Big in Japan
Edit
122 - RWBY talks FRWBY - Always Open Rooster Teeth
Edit
On The Spot
Edit
X-Men Joins Rooster Teeth? - On The Spot | Rooster Teeth
Edit
Crusaders Quest x RWBY collaborationEdit
On May 9th, 2017, a limited event collaboration between RWBY and Crusaders Quest was announced. The available playable characters to be obtained are Ruby, Weiss, Blake, Yang, Nora Valkyrie and Pyrrha Nikos. In the event, Roman Torchwick and Neopolitan appear as event bosses while the Grimm as regular enemies. The limited event of Crusaders Quest lasted from May 11th, 2017 until May 25th, 2017.[5]
BlazBlue: Cross Tag BattleEdit
Main article: BlazBlue: Cross Tag Battle
During Evolution Championship Series, it was announced that Ruby is going to be in a crossover fighting game created by Arc Systems Works and will include characters from BlazBlue, Persona 4 Arena and Under Night In Birth. The game is set to be released in 2018.[6] A demo of Ruby in the game was tweeted by Gray Haddock on October 3rd, 2017. On October 6th, 2017, Arc Systems Works released an early demo gameplay trailer of the crossover fighting game featuring the seven confirmed playable characters.[7]
On October 15th, 2017, Weiss was confirmed to be in the fighting game on the second character introduction trailer of BlazBlue: Cross Tag Battle. The game will be available on PlayStation 4, Nintendo Switch and Steam platforms.[8]
On January 13th, 2018, Blake was confirmed to be in the fighting game as one of 20 confirmed DLC characters on the Arc System Works Fighting Game Award 2017 show for BlazBlue: Cross Tag Battle.[9]
On February 7th, 2018, Blake along with Yang were confirmed to be free DLC characters on the EVO 2018 Special Promotion Trailer for BlazBlue: Cross Tag Battle.[10]
On February 21st, 2018, it was announced that the game was featured an original story of all four franchise's perspectives of RWBY, BlazBlue, Persona 4 Arena, and Under Night In Birth called "Episode Mode".[11]
On April 19th, 2018, a first look of Yang's gameplay was featured on the Arc Nama Stream.[12]
On January 25th, 2019, it was announced that the game will have an arcade version along with a new character that is only available in Japan. The arcade version was be released in Spring 2019.[13]
On August 4th, 2019, Neopolitan has been confirmed to be one of the season 2 DLC characters on BlazBlue Cross Tag Battle 2.0 Announcement Video trailer. The "Ver. 2.0 Expansion Pack" was release on November 21st, 2019.[14]
Blue Radio NEOEdit
On May 31st, 2018, Ruby makes a brief cameo in a segment where Sugita, Ragna's Japanese voice actor, imagines Ragna letting Ruby use his weapon while he wields Ruby's weapon, Crescent Rose.[15]
On July 30th, 2018, Yang makes a special guest appearance in Episode 2.[16]
On August 31st, 2018, Ruby makes a special guest appearance in Episode 3.[17]
On October 26th, 2018, Weiss makes a special guest appearance in Episode 4.[18]
Puzzle of EmpiresEdit
On September 15th, 2017, a limited event collaboration between RWBY and Puzzle of Empires was announced. The available playable characters to be obtained are Ruby, Weiss, Blake and Yang. The limited event collaboration was scheduled in October.[19] A limited event collaboration was available on October 13th, 2017 until October 30th, 2017.[20]
Knights ChronicleEdit
On July 4th, 2019, a limited event collaboration between RWBY and Knights Chronicle was announced. The available characters to be obtained are Ruby, Weiss, Blake and Yang.[21] Cinder Fall also was confirmed to appear in the limited event. On July 5th, 2019, a limited event collaboration was available on July 11th, 2019.[22] The limited event ended in July 31st, 2019.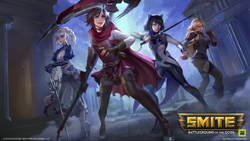 On July 19th, 2019, a limited event collaboration between
RWBY
and
SMITE
was announced. Team RWBY is confirmed to appear as voiced skins.
[23]
Battle SlothsEdit
In Rooster Teeth's game "Battle Sloths", Team RWBY are playable characters.[28]
Gaia Online
Edit
Gaia Online, an online community, created a detailed version of Crescent Rose shortly after the passing of Monty Oum. The item is called Red Crescent, and its description is "Keep moving forward." There are two versions: one for the human avatar and one for the animal avatar.
Gaia Online has a Avatar item based off of Yang called "I Burn Within". She is the second character to have an item, the first being Ruby.
Miscellaneous
Edit
Let's Play - RWBY Grimm Eclipse
Edit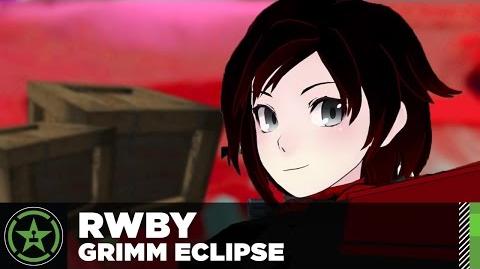 AH Stream Highlights - RWBY Grimm Eclipse
Edit
Live Action
Edit
Doctor Sleep
Edit
The 2019 horror film Doctor Sleep, based on the novel of the same name by Stephen King, features two RWBY posters; the RWBY Volume 5 poster and RWBY Volume 4 Retro Reveal poster.
Doctor Sleep prominently features Emerald Sustrai through merchandising and allusions. In Doctor Sleep, Ewan McGregor plays Danny Torrance, a character introduced as a child in The Shining (Doctor Sleep is the sequel to The Shining). Danny meets Abra (played by Kyliegh Curran), a girl with a power referred to as "the Shining", who is targeted by Rose the Hat (played by Rebecca Ferguson), a powerful, quasi-immortal being who feeds off psychic children. Abra, who is otherwise a regular teenaged girl, has a room adorned with posters and action figures featuring characters from RWBY, with a specific focus on Emerald.
A figurine of Emerald is placed on her nightstand.
A poster of Emerald is seen on her room, featuring art from RWBY: Combat Ready.
Three posters are hanging on the walls around the room.
During the film's final battle, Abra and Rose confront each other in a psychic plane, which can change shape depending on the individual. Throughout the sequence, Abra has adorned a light green bob, an homage to Kyliegh Curran's favorite character in RWBY, Emerald. Additionally, "Rose" is Ruby's last name in RWBY.
Article with more information.[29]
Ready Player One
Edit
Burnie said that he signed a contract to allow Crescent Rose to appear in the Steven Spielberg film Ready Player One.[30] Many people claim that Ruby Rose can be seen in the background in the scene with some Halo soldiers, which is a nod to Red vs. Blue, another Rooster Teeth web-series.
References
Edit
Community content is available under
CC-BY-SA
unless otherwise noted.