Over its run, RWBY has had several live-action series and specials. These specials provided behind-the-scenes looks into the show's production as well as promotions for the series and its content. These specials were usually exclusive to Rooster Teeth First members, though some were later released for public viewing via the Blu-ray releases or on the Rooster Teeth Animation YouTube Channel.[1]
Volumes 1-3: The Story So Far
Volumes 1-3:The Story So Far was a special recapping the the events of Volumes 1, 2, and 3, serving as promotional content for Volume 4.[2]
Live From Remnant
Live From Remnant was a live "ask me anything" special during the promotional run-up to Volume 7.[3]
FRWBY Teases Chapter 9 and Recaps Volume 7
FRWBY Teases Chapter 9 and Recaps Volume 7 aired in lieu of an episode during the holiday break in Volume 7.[4]
RWBY Rewind
RWBY Rewind was an episode recap and talk show that aired during Volume 5 and Volume 6. The show had interviews with the cast and crew of the series as well as a teaser for the next episode.
CRWBY: Behind the Scenes
Airing during Volumes 5 and 6, CRWBY: Behind the Scenes was a series of "behind the scenes" shorts depicting a major component of the week's corresponding episode.
Talk CRWBY to Me
Talk CRWBY to Me is one of the three RWBY shows announced on February 11st, 2020. It is a behind the scenes talk show hosted by Kerry Shawcross.[5] The series premiered on May 23rd, 2020 and was released weekly exclusively for FIRST members. The series ran for 8 episodes and concluded on July 11th, 2020.[6]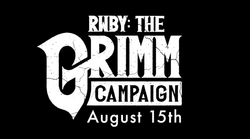 On February 11th, 2020, it was announced that one of three new RWBY shows would be a new live-action gameplay of a new RWBY-themed Dungeons and Dragons campaign.[5] Dubbed RWBY: The Grimm Campaign, the first season ran for 9 episodes starting on August 15th, 2020. The second season scheduled to premiere on February 15th, 2021.[7]
RWBY Recap
RWBY Recap was a weekly recap of the first eight volumes of "RWBY" hosted by YouTube personality Phoenix/Night. Each episode provided a summary and reminder of the events that transpired. The show premiered on January 31st, 2021. The later episodes ran concurrently with the second half of Volume 8.

References