There are a range of various comic and manga series that have been published and in production based on the RWBY series.
Manga Series
RWBY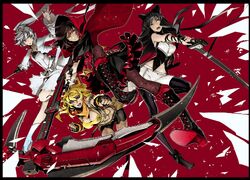 The Japanese manga adaptation of RWBY was released in Volumes starting with Volume 1 having on February 18th, 2017. It was written by manga artist Shirow Miwa and tells an original story.[1] It was published in Shueisha's Ultra Jump magazine with supervision by Rooster Teeth.
The first chapter was released as part of the Ultra Jump December issue, on November 19th, 2015. It had colored center and back pages, along with additional art from the manga.[2] Subsequent chapters are published on the 19th of each month in the Ultra Jump magazine.[3][4]
RWBY: Official Manga Anthology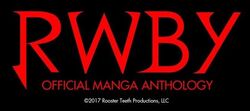 On December 23rd, 2016, Japanese entertainment company Home-sha announced Vol. 1: Red Like Roses, the first volume of the RWBY: Official Manga Anthology and stated it was coming in Spring 2017.[5] It was later announced on March 25th, 2017 that it would be released on May 19th, 2017.[6] The second volume, Vol. 2: "Mirror Mirror", was released on June 19th, 2017.[7] The third volume, Vol. 3: From Shadows, was released on September 19th, 2017.[8] The fourth volume, Vol. 4: I Burn, was released on October 19th, 2017.[9]
On October 3rd, 2019, it has been announced at New York Comic Con that a Team JNPR Anthology is currently in progress.
At RTX@Home 2020, it was announced that the JNPR Anthology would be released in 2021. Later, a sneak peek of it was revealed on VizMedia's Twitter, revealing that the anthology's title was Vol. 5 "Shine".[10] "Vol. 5 Shrine" was then released on July 20th, 2021. [11]
RWBY: The Official Manga
On October 6th, 2018, it was announced that a new RWBY manga would be release in simultaneously serialized in English Shonen Jump. It is written by manga artist BUNTA KINAMI..[12] Its first chapter was released on November 19th, 2018.[13]
On December 17th, 2018, it was announced that new chapters of RWBY: The Offical Manga would release once a month.[14]
The first volume of the manga was released in August 19th, 2019. [15]
On May 21st 2020, it was announced on Shonen Jump+ Plus and website that the manga will end on June 25th, 2020. The second volume of the manga will be released on June 19th, 2020. [16]
The full manga will be out in print form in Summer 2020.[17]
RWBY: Ice Queendom (Manga)
On March 24th, 2022, it was announced on both the English and Japanese versions of the RWBY: Ice Queendom Twitter account that the manga version of the anime series will be serialized in Monthly Comic DengekiDaioh. It will be an original story by Team RWBY Project and be drawn by Suekane Kumiko.[18]
RWBY Comic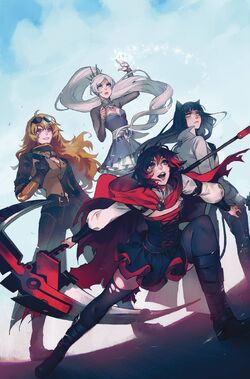 On October 7th, 2018, it was announced at New York Comic Con that there will be a spin-off collaboration between Rooster Teeth and DC Comics related to RWBY and gen:Lock. It will be available both physically and digitally in 2019.[19]
On July 5th, 2019, further details about the upcoming RWBY comic series from DC Comics were announced. The series was worked on by writer Marguerite Bennett and artists Mirka Andolfo and Arif Prianto.[20]
In an interview with Comic Drake on YouTube, Kerry revealed that the comics will be considered canon to the show, and will take place between Volumes 3 and 4.[21] He also mentioned that the comics will mostly follow the main "RWBY" cast, but may expand upon certain scenes or new characters they came across on their journeys.
On July 22th 2019, DC Comics revealed that the physical release for the first comic, "RWBY #1", would be October 9th, 2019 in their October 2019 Solicitations press release.[22] The first digital release was August 28th, 2019.
RWBY x Justice League Comic
On January 15th, 2021, DC announced aDC crossover upcoming comic miniseries with the first issues set to be released digitally on March 30th, 2021, and in print on April 27th, 2021. The miniseries will be worked on by Marguerite Bennett and artists Aneke and Mirka Andolfo.[23] Each print release will collect two of the digital releases.
References