RWBY: The Grimm Campaign is an ongoing American web series in which members of the cast play a RWBY themed Dungeons & Dragons game. It premiered on August 15th 2020.
Promotional Synopsis
Edit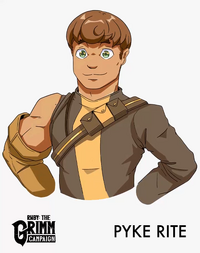 Pyke Rite is a "professional" Huntsman and a relatively recent graduate of Haven Academy. Armed with his drill cannon, and a... unique Semblance, Pyke is ready to test his fate in the world of Remnant.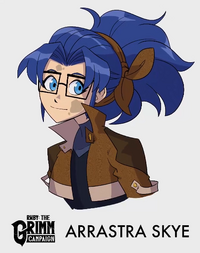 Arrastra Skye is slow to trust and quick to spring into action, thanks in part to her Faunus talent. She doesn't often work with others, but they'd better follow her lead if she graces them with her presence.
A loner with a penchant for getting himself into trouble, Asher Mora is what some would call rough around the edges. A graduate of Shade Academy, Asher has had to fight for almost everything in life... and he's not above fighting dirty.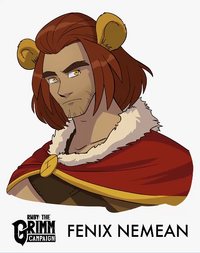 Fenix Nemean is a lion Faunus with a foolhardy sense of courage and a deep-running sense of honor. Don't test how deep his good graces run, however -- he's a bit different when he's angry.
Game Details
Edit
The series uses TaleSpire to play the RPG virtually.[3]
The game is played with custom "homebrew" D&D rules that make the game feel and play more like RWBY and fit into the world of Remnant. They were created by Cody Hawkins.[4]
The series includes visual elements to help it stand out.
The game will be set in the Kingdom of Mistral, exploring its criminal underworld.[5]
The goal is to do something that can fit alongside the show canonically, however, given the series will be played through Dungeons & Dragons, it is not locked in yet.[6] That said, worldbuilding details will be canon.[7]
The game is set two years before the events of RWBY.[8]
The title art of RWBY: The Grimm Campaign was designed by Kate Daigler.[9]
Visual elements will likely be provided by Scott Zenteno, who also provided promotional images for the series.[10]
Character arts and designs were done by Susie Combs[11] and Nick Swift [12].
The first episode, "The Mission", was released on August 15th, 2020 to Rooster Teeth First members. It was later released to the public on August 22nd, 2020 as promotional content for the series. The rest of the series is said to remain a First Member exclusive.
Development
Edit
New mechanics for the game were developed over the course of several months by Cody Hawkins.[13]
In the character sheets for the game, Gravity Dust is mistakenly marked as Metal Dust.[14]
The final recording was on September 21st, 2020. [15]
References
Edit
Community content is available under
CC-BY-SA
unless otherwise noted.