Arrested for Vandalizing
Forest was arrested for throwing a brick at a military ship in an effort to get people talking about his cause. As such, he met Team RWBY, JNR, Oscar Pine and Qrow Branwen while being transported in an Atlas airship, informing them of Robyn Hill, her cause and her Happy Huntresses.
Episodes Covering These Events
Death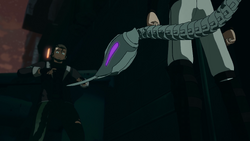 Later, Forest was then dropped off in midtown of Mantle, sarcastically thanking the pilot for the "lift", before walking into a dark alleyway, where he encountered Tyrian Callows, and was promptly murdered by the scorpion Faunus.
Forest is later mentioned by Ironwood as one of his opposers who had been murdered, to Ruby's Group's shock.
Episodes Covering These Events